Ventilation ducts
Nordic Geo Support in partnership with Mecanicad, the leading supplier from Canada, is proud to offer an innovative semi-rigid duct system which can substantially reduce the running costs of the ventilation and therefore the carbon footprint too.
Download the brochure here.
The NordicGEO ventilation system offers:
Large savings CO2 savings in transportation and energy use

Reduction of power consumption used by vent systems by up to 50%

Easily transportable underground

Quick and easy to install

Reusable

Accurate and precision manufacture to the size required

Easily adaptable for push and push/pull vent systems

Robust and flexible

Connects directly to vent fans, ensuring high performance and air quality

The duct resists negative pressures and does not create recirculation issues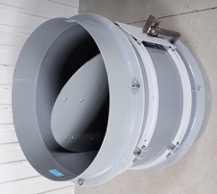 These ducts have an exceptionally low drag factor (i.e. frictional resistance) which is less than one third of the normal flexible ventilation bagging and even half of the drag factor for rigid steel ducts.
Hence the fans can be half the size or less than those normally used for the same flow of air which creates a huge saving in operational cost and a much lower carbon footprint for the same quality of ventilation.
Technology
Required Fan Size

NordicGEO

Vent

500 Hp

Steel/Fiberglass

1250 Hp