Nordic Geo Support offer our customers high-quality, high-performance products in the field of mixing and conveying and injection technology. The equipment is renowned as sturdy, user-friendly, easy to maintain and reliable. If you can't find the product that you want listed below, feel free to contact us at Nordic Geo Support.
Resin Injection Pumps
We offer a selected range of flexible application pumps and pumping systems for injection resins.
Accessories for cements and resins
Apart from mixing and pumping, cement and resin based products require a way to deliver the product. Whether via injection technology or pumped delivery, it is important to ensure the system to optimises delivery via hoses, lances and packers correctly matched to the project needs.​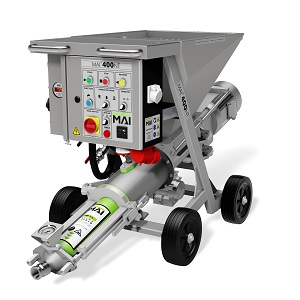 Engineered Mixing and Delivery Systems
Nordic GEO Support offers an extensive range of engineered solution to meeting the demands of miners and construction customers. Our team works closely with out end customers and specialists to develop the best solution to meet the project's demands.​
More information – contact Nordic Geo Support
Shotcreting System
The Rockcreter dry shotcreting series is designed for use in mining, construction, tunnelling and refractory applications. A leading machine for transporting any form of dry mix material. It is compact and robust, requiring little maintenance. ​
NordicGEO Shotcreting Equipment
Data Logging
Measuring and recording of the quality of a project depends on pressure, flow and volume parameters of cement grout. ​ Data downloading to PC, in order to create and print Easily export data to Microsoft Excel. ​
Water pumps
We offer a range of robust pumps for de-watering and transfer of water.