Anchoring & Bolting Grouts
Nordic Geo Support offers a comprehensive range of bolting and anchoring grouts from leading global companies. Combined with our offer of drilling, bolting and grouting as well as the best application know how, we offer a complete solution to the challenges of rock bolting today. The products we offer have many advantages over traditional pumped cement grouts, most notably in terms of the speed of setting (and therefore the speed at which the bolt can support the ground), ease of application (with less mess and wastage) and the ability to be used in wet conditions.
NordicGEO Polyester Resin Capsules
for fast-acting support
Typical applications include the temporary and permanent anchoring of bolts for rock support in slopes and underground spaces. The fast-acting nature of the capsules makes them ideal for application where time is of the essence – such as immediate rock support at the tunnel face (in tunnelling or mining), tunnel refurbishment, work on live transport links like roads or railways and work in places that are difficult to access such as steep slopes. These capsules use proven technology which has been tested in the most challenging environments.
Accessories such as loading guns & parachutes (PDF) 

The resin design can be fine-tuned to meet project specific setting times, lengths, diameters and insertion methods.
Advantages include:
Fast setting times for immediate security
Easy and fast to insert and handle

Full encapsulation of the bolt

Can be used in specific underwater applications and in wet boreholes

No additional equipment needed (pumps, hoses, etc)

Resins offer additional protection to bolts

Clean & no dust

Various setting times are available

Various lengths and diameters available
Applications
Rock bolting and anchoring in mines, tunnels and construction applications
Permanent application use
When combined with Nordic Geo Support GFRP bolts, an easier cleaner excavation in temporary areas by reducing ore contamination and lower wear on cutters, crushers and conveyers in mining and tunnelling works
Resistant to vibration which allows better security of bolts near to blasting areas
NordicGEO Cartridge Resins
The Application of Lokfix E products is simple but should be undertaken in accordance with the designers instructions. These cartridges are ideal for fast anchoring of fixing bolts and small diameter anchors. Temporary applications could include fixings for services and structures during construction. The Re-usable service hangers could be an alternative in these cases. Permanent applications could include fixings for MEP services, Over Head Line Equipment (OHLE), lighting, communications, etc.
An overview is here with more product details here.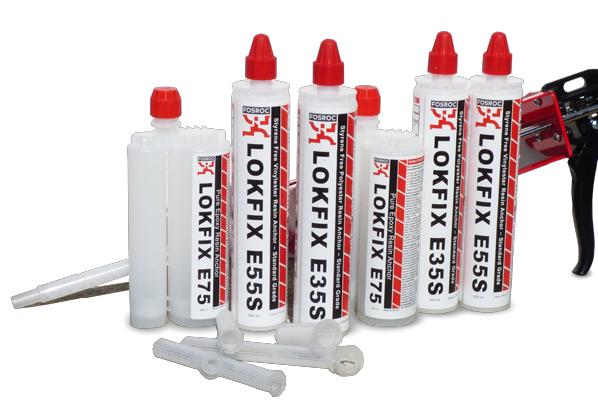 NordicGEO Pumpable grouts

A wide range of grouts for anchoring, bolting and ground stabilisation. Applications could include the automated grouting of rockbolts (more information here), holding down anchors for wind turbines, long tie-backs for retaining walls and ground anchors for slope stabilization.
An overview is here with more product details here.                      More information – contact Nordic Geo Support