Other products and services

Nordic Geo Support recognises the importance of various aspects of projects in the Nordic Region. One key aspect is water management is essential, both during a project and post-construction, for a successful project. 
Surface finishes and structural surface care as well as maintenance of existing assets are increasingly important to society. Nordic Geo Support's focus on a sustainable environment means helping maintain our current installed asset base, be it a bridge, road, rail, dam or tunnel.
Drainage Tubes
Nordic Geo Support offers the broadest range of ground water management solutions including drilling consumables, rock injection solutions and cement additives. Our drainage offer is one of the widest available from leading global suppliers.
More information – contact Nordic Geo Support
Drainage systems include:
Rigid PVC slotted drainage pipes
Drainage pipeline systems
Self drilling drainage pipes
Well pumping filters
Geo-composite sheets
Service hangers for drainage and other services management during the project
Waterproofing

 
Working with global leaders, Nordic Geo Support delivers a range of world class waterproofing systems from basement to the roof, including membranes and waterstops. We offer a full range of world-class waterproofing systems that ensure the integrity and durability of concrete structures.
More information – contact Nordic Geo Support
Joint

Sealants
The performance of sealants are vital to the integrity of structures. Selecting the right sealant for your specific application depends on the properties needed for the purpose such as flexible joint sealing or sealing for water, sewerage or dust ingress.
More information – contact Nordic Geo Support
Pouring grade sealants – designed exclusively for horizontal joints in floors and pavements.




Gun grade sealants – suitable for use in vertical and horizontal joints.       

Protective coatings
Nordic Geo Support offers a wide  range of proven acrylic, epoxy, polyurethane, epoxy-novolac technologies from Fosroc that provide technical solutions for long-term protection against local environmental conditions, including extreme weather exposure, atmospheric pollutants, aggressive marine conditions and a wide variety of chemicals.
More information – contact Nordic Geo Support
Ventilation and Air Quality Products
Underground mine ventilation provides a flow of air to the underground workings of a mine of sufficient volume to dilute and remove dust and noxious gases (typically NOx, SO2, methane, CO2 and CO) and to regulate temperature. There are various sources of gases including equipment, blasting activities and even the orebody itself. One of the largest components of the operating cost for mine ventilation is electricity to power the ventilation fans, which may account for one third of a typical underground mine's entire electrical power cost.
Nordic Geo Support provides ventilation ducting, vent curtains, brattices and rigid duct seals as well as fast mounting Reusable Services Hangers for faster, secure services mobilisation.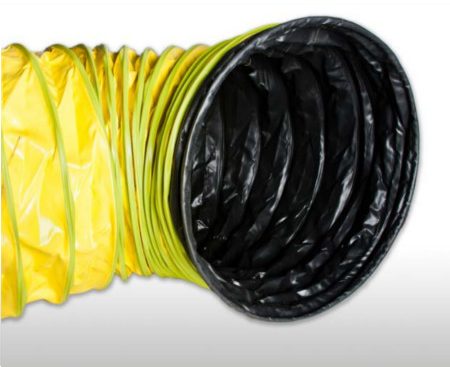 Products to improve mine working conditions
Spraying systems form an integral part of mines and their function is to reduce airborne dust levels across the mines operations. Studies show that the use of air-and-water spraying systems can reduce dust concentration by up to 80% and they contribute to a significant reduction of dust concentration in the air. 
Nordic Geo Support supplies a range of water atomisers as well as safety equipment, refuge chambers and escape route directional cones.                                                                  
De-watering pumps
De- watering, or the removal of water, is a common application for mines, tunnels a construction site.  Depending on the site, sources of water can come from rain or ground water ingress, or from services such as water atomisers. Pumps need to be robust, easy to use and maintain with the ability to work in various conditions. The pneumatically operated Winzemaster XL2 Double Diaphragm Pump meets the toughest of demands.                                                                  
New products: coming soon!
A range of additional accessories for mining projects will be available soon.