Nordic Geo Support offers the Rockmore range, a complete selection of high performance drilling tools to meet all of your drilling needs. This range includes button, cross and X-design bits, couplings, coupling adapters, shank rods, bit adapters and thread adapters in a full selection of standard diameters. The development of Sonic Flow technology has created most efficient Down-The-Hole (DTH) precision hammers and associated bits. We also offer a complete range of extension rods including male-male and male-female configurations, round and hex cross-section shapes, various lengths and different heat treatment options.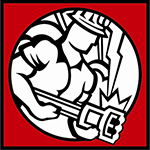 Better Rock Fracture – Multipoint Carbide Bits
The Exclusive Rockmore MultiPoint carbide insert design provides multiple strike points for more efficient rock fracture. Multipoint carbide inserts for button bits, combining higher hardness properties with longer-lasting performance to handle extreme, abrasive rock conditions. Extensive trials showed that Rockmore carbide bits last up to 20 percent longer than previous designs.
Unique and exclusive multiple contact carbide points
More efficient rock fracture
Longer insert life
Smoother bit rotation & advancement
Faster penetration rates
DTH Bit Selection Guide (PDF )

Higher precision drilling – XR32 and XT33 Threads
Extensive customer acceptance testing has demonstrated the effectiveness of the XR32 thread system in providing more efficient energy transfer, higher bit penetration rates, and longer thread life for both bit and rod. The new XR32 connection provides stability at the thread end, reducing stress on the thread connection.
The XT33  Thread design offers increased rigidity and resistance to rod bending improving bit coupling, more precise collaring and straighter holes
Greater thread engagement
Two contact guide zones
Higher precision collaring, straighter holes
Improved energy transfer

Optimal Hammer Performance – Sonic Flow
Optimal compressed air energy transfer is essential to DTH drilling efficiency. A specially designed hammer with a revolutionary air flow management minimises backflow and turbulence. The ROK series of DTH hammers with patented SONIC FLOW technology offer greater productivity than normal hammers.
Streamlined design
Minimal turbulence increases piston energy performance and frequency
Optimised Energy Transfer
Increased efficiency and faster penetration
Fewer parts for easier maintenance

Increased Drilling Efficiency
Rockmore offers a complete selection of high-performance bits, employing various technologies and carbide inserts to meet the needs of rock conditions and drilling requirements.
The innovative B6 drill bit is designed to increase drilling efficiency and to reduce operating costs for hard rock drilling and blasting operations. The new B6 design prolongs bit life and increases drilling penetration rates.
Longer Bit life
Increased penetration rates
The Xtrac bit features a tapered retracted body to improve flushing geometry and is available in standard 'T' threads and 'XT' threads and is designed with various button configurations and face designs.
The Star Flow bits are offered in 115mm and 127mm diameters and are available with flat face or drop centred design, using larger insert bits for enhanced rock breaking. The airflow efficiently carries rock cuttings from the face increasing performance in hard and abrasive rock conditions.

Longer Life, Straighter Holes – XT Vector Extension Rods
Rockmore's Vector Rod System is a major breakthrough in improving the performance and service life of extension drill tools in surface and underground percussive drilling applications. The new XT thread design incorporates revolutionary new guided cylindrical contact zones between the male and female thread joints. These guided surface features, located in the nose and rear of the thread connections, enable many performance and reliability benefits leading to major overall cost savings in the drilling cycle.
New Design advancement of "T" style thread
Longer thread life; Easier thread breakout; Straighter holes
Suited for larger and deeper blast holes
Reverse compatibility with standard "T" style threads
Straighter holes; Reduced hole deviation; Improved thread grease retention on thread pitches

Reliability – Tubeless Technology
Rockmore's T Series hammer class is a breakthrough in DTH drilling technology for mining, construction, and water-well applications. In addition to its ultra high performance features, the new T series design hammers are "tubeless" as they feature standard shank connections that no longer require plastic parts commonly known as Blow Tubes or Foot Valves. The elimination of this plastic part increases reliability while maintaining drilling efficiency.